We've created this guide to the best 23 virtual team building activities you can try with your team during a real-time virtual happy hour.
We recently cut it down from 100 activities to just the best ones we've tried and tested ourselves.
Best Virtual Team Building Activities
Here are our favorite virtual team building activities. Ranging from online office games to online classes to virtual icebreaker activities you can do over Zoom. Enjoy!
1. Virtual Icebreaker Quizzes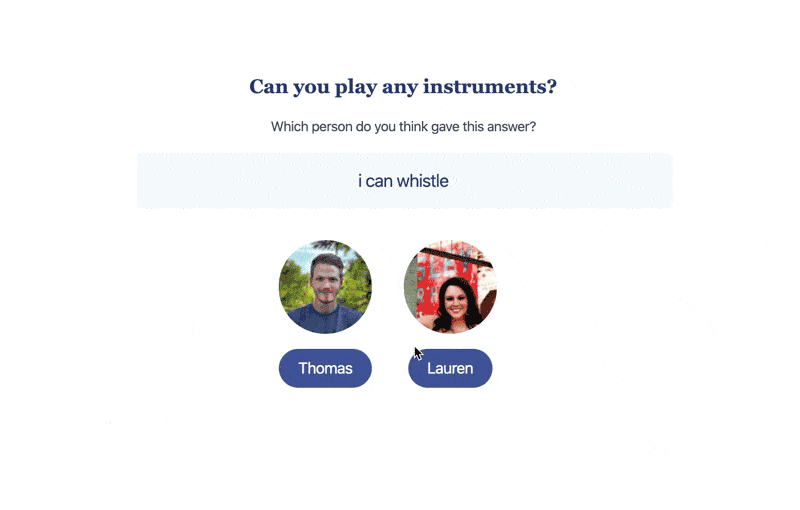 Participants: 3 - 1000+
Duration: 2 to 10 minutes per round
Forgive us for putting our own game as the #1 activity on this list. But, with thousands of teams worldwide playing QuizBreaker every day, we think it's a good suggestion!
One of the best ways for a remote team to bond, even if they're located thousands of miles away from each other, is to ask them fun ice breaker questions and have everyone guess each other's answers in a quiz.
QuizBreaker makes this easy & automated with lots of gamification along the way.
Instructions
Here's how ice breaker quizzes on QuizBreaker work:
You create an account and invite your team to answer icebreaker questions. The platform has over 100 curated fun icebreaker questions included, but you can also add in your own custom ones.
Once your team starts answering ice breaker questions automated quizzes can be sent out via email where players have to guess each other's answers. For example; "Was it Greg or Grace who said that their favorite TV series of all time is The Office?"
Points, badges & levels are unlocked through each consecutive game round. And you can schedule the quiz to be sent out on your chosen frequency; daily, weekly, monthly, etc.
There's also a weekly leaderboard for those folks who love a bit of friendly competition and for managers who want to be able to measure engagement over time.
Click here to try out QuizBreaker for free.
Other Recommended Blogs:
Update: We've Expanded Our Features List!
We have exciting news to share! Aside from icebreaker questions, we've introduced a whole array of features to QuizBreaker that can help with virtual team building. Some of these feature include:
A multiplayer trivia game player with hundreds of thousands of trivia questions (You can also create your own trivia questions);
A work style and personality test result aggregator;
A selection of fun virtual escape rooms; and
A pulse survey tool to help gauge your team's engagement levels.
If you want to try all these fun and engaging features, we have a 21-day free trial to test the features out for yourself.
Click here to try out QuizBreaker for free.
What We Like About This Activity
We believe that QuizBreaker is a top-notch option for teams that want to embed virtual team building in their day-to-day life. We've taken a look at all the ways that teams can connect and engage online and put them together in one platform.
What We Don't Like About This Activity
Hopping on the honest train, we still think there's more to improve, so we're planning more features and capabilities for QuizBreaker. Watch out for more upcoming features soon!
2. Virtual Escape Rooms
Online virtual escape rooms blew up in 2023 as it became impossible to visit the ones in the real world because of the pandemic.
One that we've tried and love ourselves is Modern Genius - in this one your team has to rescue a character based on Elon Musk from his own invention, there's a billion dollar reward on the table if you're successful.
In it, you and your team have to go through a series of rooms (it's a browser based game) and solve the puzzles in order to solve a mysterious murder and escape in time.
It's a good challenge and took our team about 70 minutes to complete over Zoom.
& Lost In The Arctic - this one is set in the arctic, a research team down there sent a concerning voice memo about paranormal activity and then all contact was lost. You and your team have to head down there and figure out what happened - whilst staying alive!
Bonus Guide: 20 Best Free & Paid Online Escape Rooms
What We Like About This Activity
Escape rooms are fun ways to bond with your co-workers and team mates. It's also perfect to help everyone learn how to brainstorm and problem solve together.
What We Don't Like About This Activity
Escape rooms can be fun, but they take a lot of time. On average, they will last between forty to fifty minutes. For shorter team activities, check out this list of five-minute team building activities.
3. Virtual Murder Mysteries
Virtual murder mysteries are a really fun and interactive virtual team building activity that works for all sorts of team sizes, here's a couple of our favorites:
The last thing you want is a team building, night with friends, or family get-togethers that's boring or predictable. If you're looking for a murder mystery challenge that will add excitement and intrigue to your next event, "Blood, Gold, and a Night of Jazz" is the game you're looking for.
The game follows the storyline of a murder committed in a tech mogul's home and a group of unique characters on a mission to find whodunnit.
The reason why we've placed this game first is because of how well designed it is. The players each have great backstories that are sure to give everyone a great time recreating them.
The game play and guides help ensure that everyone knows how to play the game right even if it's their first time.
The game is good for 4-14 players and comes with a set of visual guides and event paraphernalia to make sure your next murder mystery night will be a lot of fun!
"Blood, Gold, and a Night of Jazz" can work for both online and face-to-face settings.
10/10 star rating for us.
Click here to check out Blood, Gold & a Night of Jazz Another one we enjoyed is Prom Nightmare.
Murder mystery challenges should be a good mixture of suspense and fun. And that's what players get with "Prom Nightmare." We've heard many great stories about how this game rolls out in a Zoom party, team building, or get together.
It's a guaranteed way to have a few hours of fun, challenges, and thrill. The team at Local Australian tried this game for their Christmas party and they had this to say about the game: "it was so much fun, we almost forgot to exchange gifts!"
And for only $49 for a game that can accommodate up to fourteen players and be used several times? Call the police, because this one's a steal! It also comes with great inclusions, like audio files, detective guides, template invitations, and many more.
You can use them in virtual settings or even face-to-face ones. We would give "Prom Nightmare" four-and-a-half or even five stars for game play, fun, simplicity of design, and ease of use.
Click here to check out Prom Nightmare.
Murder mysteries are a really fun activity that can be played over video or even over WhatsApp. Here are some of our favorite virtual murder mysteries for remote team building: Top 14 Online Murder Mystery Party Games
What We Like About This Activity
Murder mystery requires collaboration, communication, and problem-solving. These make them excellent for team-building exercises or social gatherings. And, when team members get really invested, you get a few laughs watching each other try to stay in character!
What We Don't Like About This Activity
Planning and participating in a murder mystery event can be time-consuming. Shy or less engaged participants might also feel left out, and dominant personalities might overshadow others.
4. Virtual Live Multiplayer Trivia
Objective: Competitive Team Fun Event
Participants: 3 - 1000+
Duration: 5 to 90 minutes
Difficulty: Easy
Trivia games are fun and easy virtual team building activities to run at work, especially when you have the right multiplayer trivia tool. When it comes to tools, there are a wide variety to choose from.
First off, we recommend that you try TriviaNerd. So far, they're the most value-for-money online multiplayer trivia game we've found online. The software also has over 100,000+ trivia to choose from and an AI-powered trivia generator to help you make one from scratch.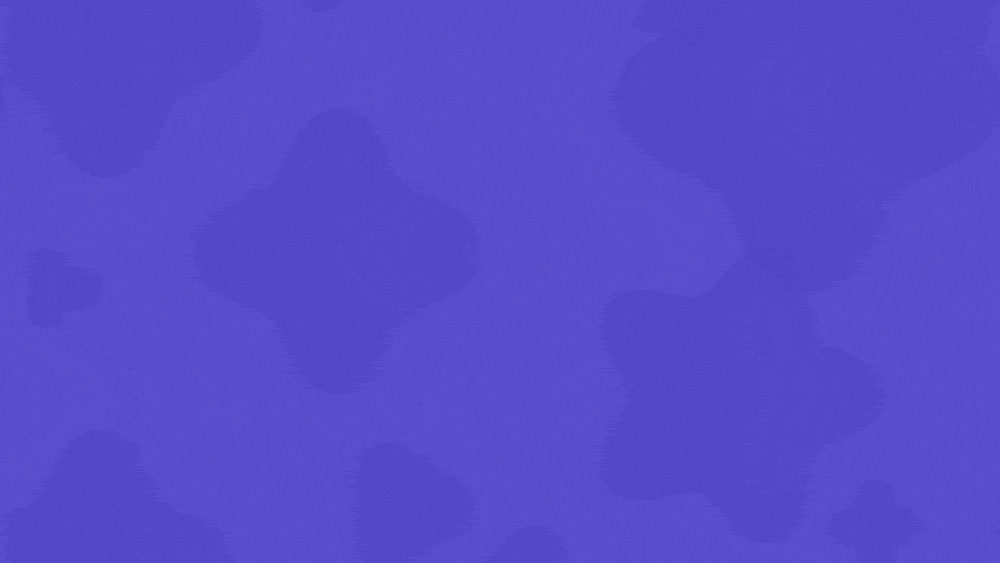 There are a few more options for online trivia games. Another recommendation you should consider is Kahoot. They're one of the biggest and most popular quizzing platforms. Kahoot also includes a trivia game feature, which can make online trivia games interactive.
Lastly, you should also check out Water Cooler Trivia. Unlike the two options above, they send weekly trivia questions to your team. Your team then answers them asynchronously. People with correct answers get rewarded points.
Water Cooler trivia is a better trivia game option if you have a busy remote team. It's also something that can work the same way QuizBreaker's icebreaker quiz feature works.
Instructions
For this activity, you'll want to use a tool like TriviaNerd, Kahoot, or Water Cooler Trivia, which specialize in running virtual live trivia games for teams online.
Choose trivia questions from their database or create your own custom trivia.
These tools have some great gamification elements and work great on all devices. Take a look at Trivia Nerd.
Recommended Reading: The 10 Best Virtual Trivia Games
What We Like About This Activity
Trivia games can be both educational and entertaining. They can be a fun way to spend time with co-workers, friends, family, and so on.
For those who enjoy a bit of competition, trivia games provide a platform to test knowledge and compete in a friendly and engaging manner.
What We Don't Like About This Activity
Players with different levels of knowledge or interests might find certain categories challenging or frustrating. Sometimes, having a limited set of questions can make the game repetitive over time.
5. Virtual Personality Testing
Objective: Understand the unique working styles of the people on your team
Participants: Unlimited
Duration: Takes about 60 minutes
Difficulty: Easily self facilitated
WorkStyle has created a unique team building activity that helps teams understand how to best work with one another. Each person gets a profile where they can take up to 6 different personality tests to add to their report.
They can also fill in sections about their optimal working preferences and display how they work best.
Click here to check out WorkStyle.
Recommended Reading: The Best Personality Tests for Teams
What We Like About This Activity
Personality tests are a great way to bond for teams who want to get to know each other better. You also foster more self-awareness by gaining insight into your own personality traits, strengths, and areas for improvement.
What We Don't Like About This Activity
Personality tests can lead to overgeneralization, where individuals are boxed into specific categories. Not all personality tests are scientifically validated. Some popular tests may lack reliability, leading to questionable results.
6. Rapid Fire Game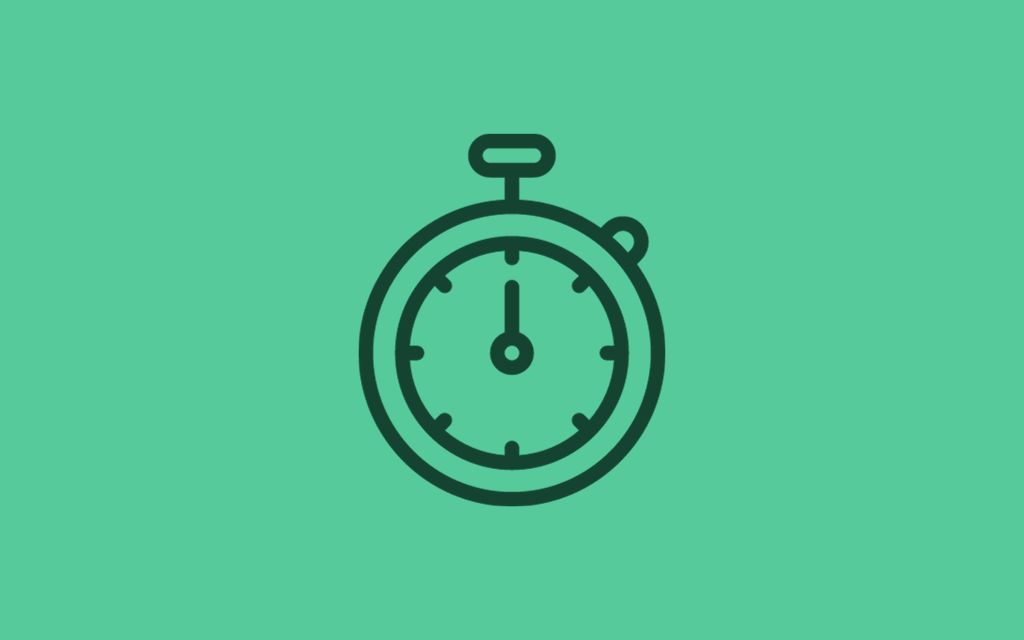 A Rapid Fire Game is an engaging, swift-paced activity centered on immediate responses. Participants are posed with a series of questions, requiring prompt answers with little time for reflection.
Traditionally, one individual or a group poses the questions, and participants respond within a set timeframe.
This format is an excellent icebreaker and also serves as an effective tool for team-building, new employee integration, and enhancing social interaction.
Questions span a broad spectrum, from personal preferences to general knowledge, all designed to sustain engagement, elicit spontaneous responses, and keep participants alert. The primary goal is to foster interaction and a lively atmosphere.
Here's a rapid fire game template you could play at work: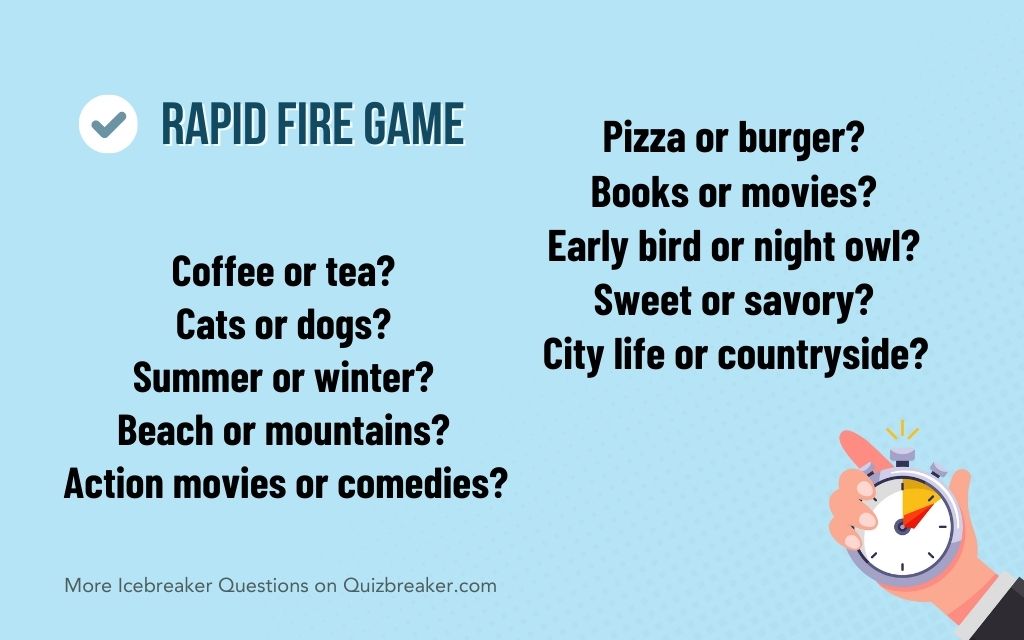 Also, check out this list of 200+ rapid fire questions for your next rapid fire game.
What We Like About This Activity
With this game, participants need to think on their feet, which can help sharpen quick decision-making skills and mental agility. Rapid fire games also require minimal setup, making them easy to adapt for different groups and settings.
What We Don't Like About This Activity
The need to respond quickly can be stressful for some individuals, particularly those who want time to think before speaking.
7. Slipper Dilemma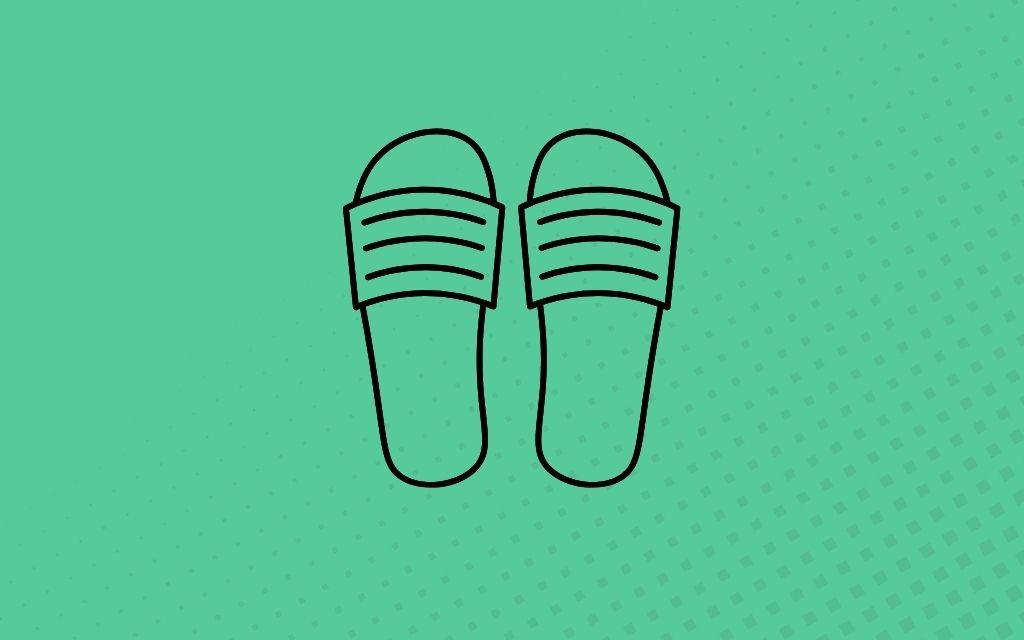 Objective: Friendly Team Competition
Participants: 5 to 10
Duration: 5 minutes
Difficulty: Easy
Working from home can be challenging when deciding on what to wear. Most people who work from home have the dilemma of either being barefoot or wearing their house slippers. So why not create this as a fun activity and a dilemma your team participates in together.
Instructions
Play once a week or bi-weekly before or at the end of your team meeting.
Someone in your team needs to shout out "Slippers" randomly, and everyone needs to move the camera to their feet to show if they are barefoot or wearing slippers.
If everyone is wearing slippers, then everyone gets 1 point. If only one person is barefoot or wearing socks, that person gets 3 points, and no one else gets any points. If more than one person is in slippers, those players get zero points, and everyone else gets 3 points.
Keep score and award fun prizes to the winners. Slipper Dilemma is a quick activity that will be a great addition to your weekly team agenda.
What We Like About This Activity
Slipper Dilemma introduces a sense of humor and fun to team meetings. The game is perfect if you want to break the monotony of routine work discussions.
What We Don't Like About This Activity
For diverse teams, cultural differences and personal comfort levels might mean that not everyone feels equally comfortable with the activity.
8. Virtual City Tour
A really fun activity that we tried recently was having a Paris local show us around their city via Zoom. They wore a GoPro and live streamed riding around the beautiful streets on a bike. We stopped in at all the top sites and even got to watch a chocolatier make a fresh batch. Highly recommend it!
You can find this kind of activity on Airbnb Experiences all over the world.
What We Like About This Activity
A virtual city tour as a team-building activity can be a unique and engaging way to explore new places from the comfort of one's own home or office. Participants tend to broaden their horizons and promote cultural awareness.
What We Don't Like About This Activity
The smells, sounds, and atmosphere are difficult to convey through a screen. So, there will be that sense that it your tour isn't the real thing.
9. Pictionary
Objective: Give Team Bonding & Communication Skills
Participants: 5 - 10
Duration: 30 to 60 minutes
Difficulty: Easy
tiMaterials: Access to an online virtual room
Authors have noted before that creativity in remote teams is a key component of success. Due to this, we cannot recommend highly enough using team building activities that promote creativity to get the best out of your own remote team.
Instructions
The instructions for this activity are really very simple. Use something like Skribbl to create your own virtual room for doodling. Just get the team online and you can immediately start playing.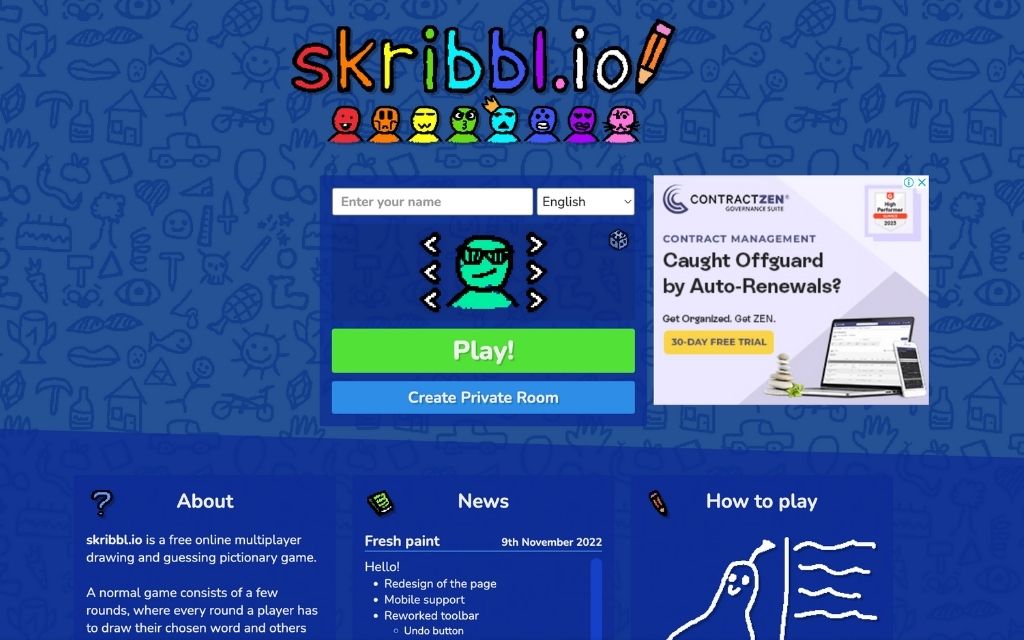 What We Like About This Activity
On the plus side, Pictionary can be a highly interactive and fun game that fosters creativity, improves communication skills. It's adaptable to virtual platforms and can engage participants of all skill levels, encouraging teamwork and collaboration.
What We Don't Like About This Activity
Pictionary might not appeal to everyone, particularly those who are self-conscious about their drawing skills or less comfortable with less structured, more spontaneous activities.
10. Private Beer Making Experience
Let your team become brewers for the day in the comfort of their own home w/ Master the Brew's Private Beer Making Experience. "Zoom" through 90 minutes of team building fun with no prior knowledge and live guided instruction from an expert brewer.
The experience comes with the equipment and ingredients to brew a full case of beer, shipped right to your participants' door.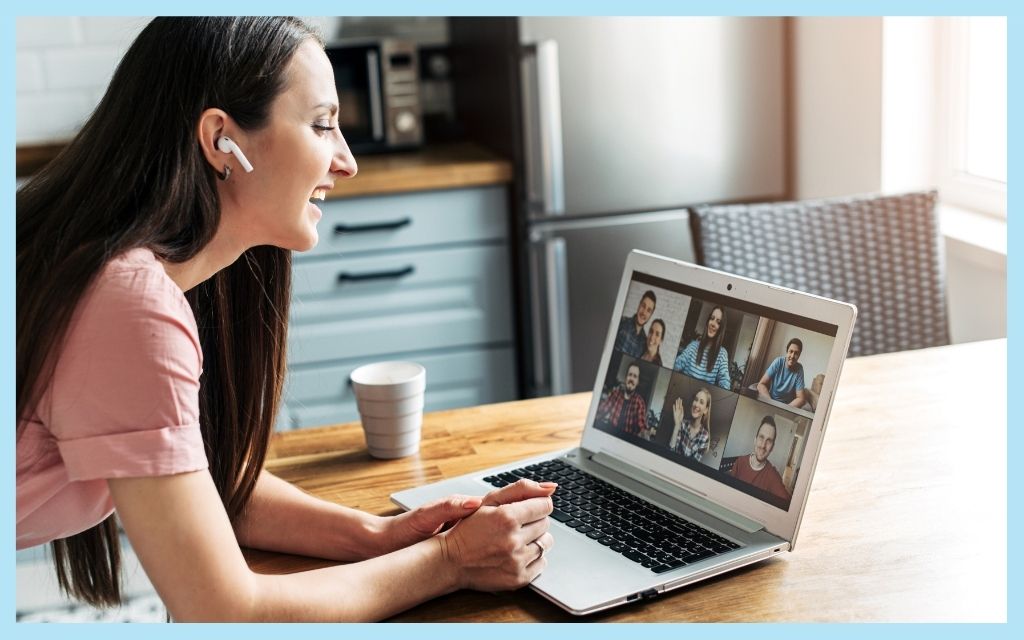 They can even work with you to create a custom label and a team beer recipe!
Check it out: City Brew Virtual Tours
What We Like About This Activity
The hands-on nature of this activity can be particularly engaging. It offers your team a nice little break from more traditional team-building exercises.
A batch of homemade beer (a great end product btw!) can also give a sense of accomplishment and create lasting memories for the group.
What We Don't Like About This Activity
The focus on alcohol can potentially alenate non-drinkers or those who abstain for personal, health, or religious reasons. Logistical aspects, such as specialized equipment and space, can make organizing such an event challenging and potentially costly, especially if you want to do it virtually.
11. Whose Office Is It Anyway?
Objective: Getting everyone to know each other
Participants: However many you want!
Duration: On-going
Difficulty: Easy
Materials: Electronic devices and a file-sharing tool
We love this activity because it is simple, but also a lot of fun. It's often hard to get to know each other in remote teams, so this allows people to find out a bit more about what each person is like.
Instructions
Ask each team member to take a picture of his or her 'office' and get them to upload it to a shareable file.
When taking the picture, encourage participants to leave their desk and working space as it is. This gives a true representation of them.
Then, get everyone else to try and guess who's desk is who's.
What We Like About This Activity
Whose Office is It Anyway? is a fun, engaging activity that can break the monotony of routine work and doesn't require extensive planning or resources. By offering a glimpse into each other's daily work environments, the game can spark conversations and stories.
Sometimes, this game can also spark team bonding and provide insights into individual work styles and personalities.
What We Don't Like About This Activity
This game can raise privacy concerns, as some team members might feel uncomfortable revealing their personal spaces.
12. Virtual Book Club
Participants: 5 - 10
Duration: 60 minutes
Difficulty: Easy
Materials: Books… and a lot of them!
Who says you need to be a suburban housewife in order to enjoy a book club? Depending on your team's interests it could just as easily be a movie club, a podcast club, or heck even a fight club!…or maybe not a fight club, because, y'know that first rule and all…
Our point is that there's something about regularly meeting up with a group of people to discuss something that all of you enjoy.
It's a very ordinary activity but it allows everybody a chance to get together and talk about something other than work and, in turn, learn more about each other as individuals and grow closer as a result.
We also love this book club idea because it promotes regular communication within teams, which has been found to be the key to building trust and communication within remote teams.
This is the book club we used last year. We're positive your team will love it the way ours did.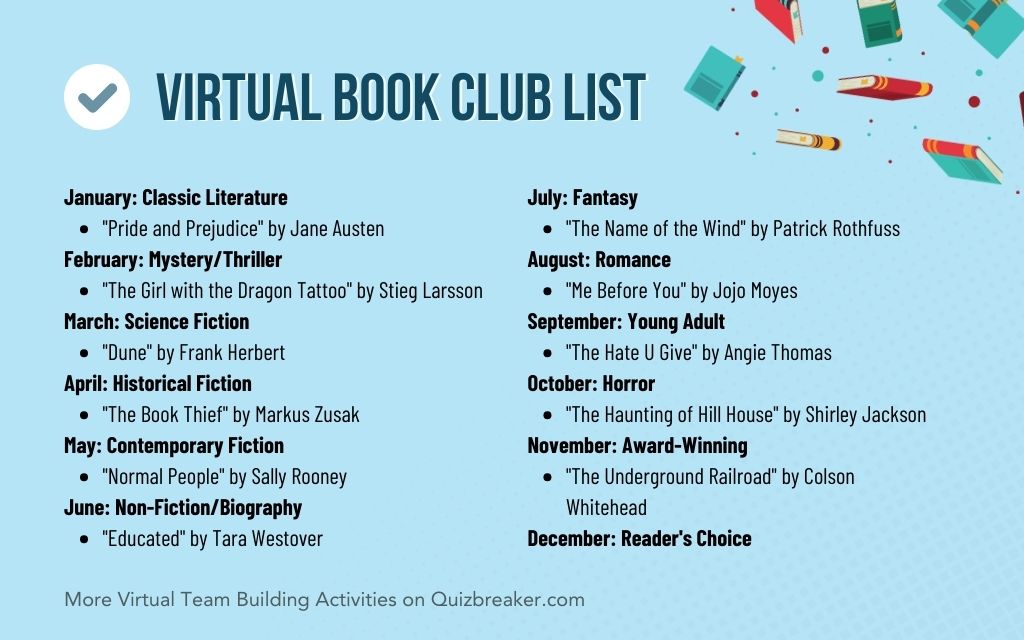 Instructions
The instructions are really quite simple - ask people if they want to meet every month on lunch breaks to discuss the books they've been reading.
To organize your own book club, make sure that participation is voluntary and that everyone agrees on what book to read.
Nothing kills a fledgling club more than mandatory participation.
What We Like About This Activity
A virtual book club gives your team the opportunity to connect over shared literary interests. It also encourages team members to read, learn, and upskill, promoting personal and professional development through discussions of diverse ideas.
What We Don't Like About This Activity
Technical issues, such as poor internet connectivity, can disrupt the flow of discussion. At times, the lack of physical presence might also reduce the richness of interaction compared to an in-person book club.
13. Online Catchphrase or Charades
Objective: To improve team bonding
Participants: 10 or less
Duration: 30 to 40 minutes
Difficulty: Easy
Materials: Virtual charades cards or a similar resource
'Catchphrase', also known as charades, is a family favorite. We love it because it's fun and light-hearted, whilst still being professional. It's a great way to get everyone up, get everyone involved, and to push them out of their comfort zone.
Instructions
Split your team in half to form two separate teams that will be competing against each other.
Decide on a theme (e.g., animals, films, etc).
Get everyone to join a video call.
Each team member gets a chance to act out a certain object, scene, or movement from them.
The first person to get it correct wins a point for their team.
Carry this on for a long as you want, and then count the points up at the end.
What We Like About This Activity
We like these games because they enhance team bonding by encouraging light-hearted competition. They also improve communication skills, as participants must convey concepts or phrases clearly and quickly under time constraints.
What We Don't Like About This Activity
In our opinion, these games can be challenging in a virtual setting due to potential delays or technical issues with video and audio.
14. Virtual Bingo
Objective: To promote team bonding
Participants: 10 or less
Duration: 15 to 20 minutes
Difficulty: Medium
Materials: Bingo cards (emailed to each player), questions and an electronic device
We can all admit, we love a game of bingo… even if it is for grannies! Sometimes in remote teams, it's hard to feel like you know who you're talking to on the other side of lengthy email discussions.
Virtual bingo is a fun and easy way to get everyone involved and realize what they have in common.
Here's a People Bingo Template that we love to use.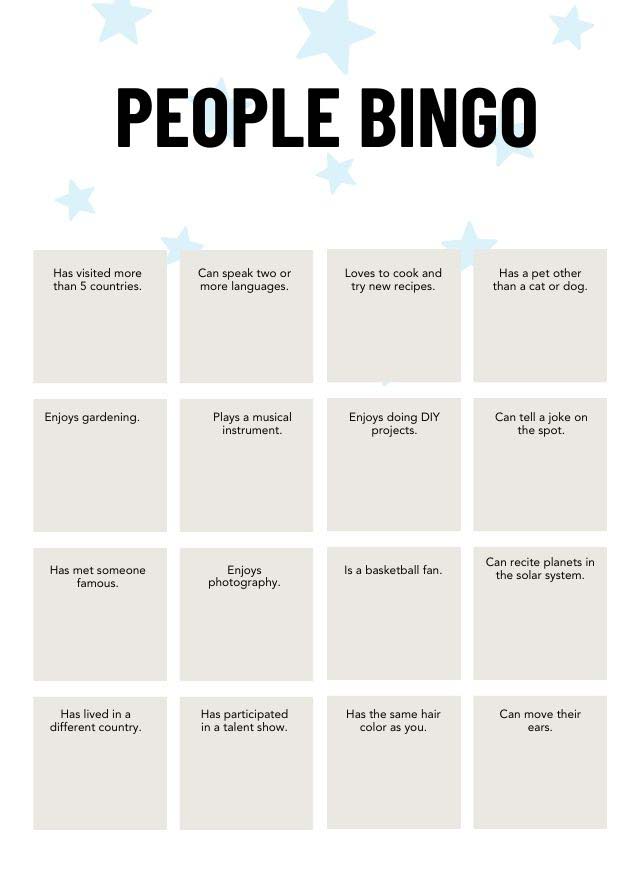 Instructions
Prior to the activity, create bingo cards or use this People-Bingo printable template.
Create a list of statements. For example, "has brown hair" or "works for the HR team".
Call out the statements and team players then have to put a cross in the box if they share that quality with someone else.
The first player to get three in a row, and then the first to a full house, win.
What We Like About This Activity
We find that virtual bingo offers a relaxed, enjoyable way for team members to interact, fostering a sense of community and shared fun. It can serve as a light-hearted break from work and let team members unwind and bond over a non-work-related activity.
What We Don't Like About This Activity
Virtual Bingo might lack the depth and interaction found in more complex team-building activities. It's largely a game of chance, which means there are limited opportunities for skill development or strategic thinking.
15. Pin The Map
Objective: Team Bonding & Get To Know One Another
Participants: 5 - 10
Duration: 10 to 30 minutes
Difficulty: Easy
Materials: Paper, pens & internet.
Surprisingly, there is an abundance of research to suggest that cultural diversity in teams can sometimes act as a barrier.
So, based on this we feel that it is really important to get everyone acquainted so that individual culture doesn't inhibit team performance. Feel free to steal the world map below to use for a Pin the Map activity with your coworkers.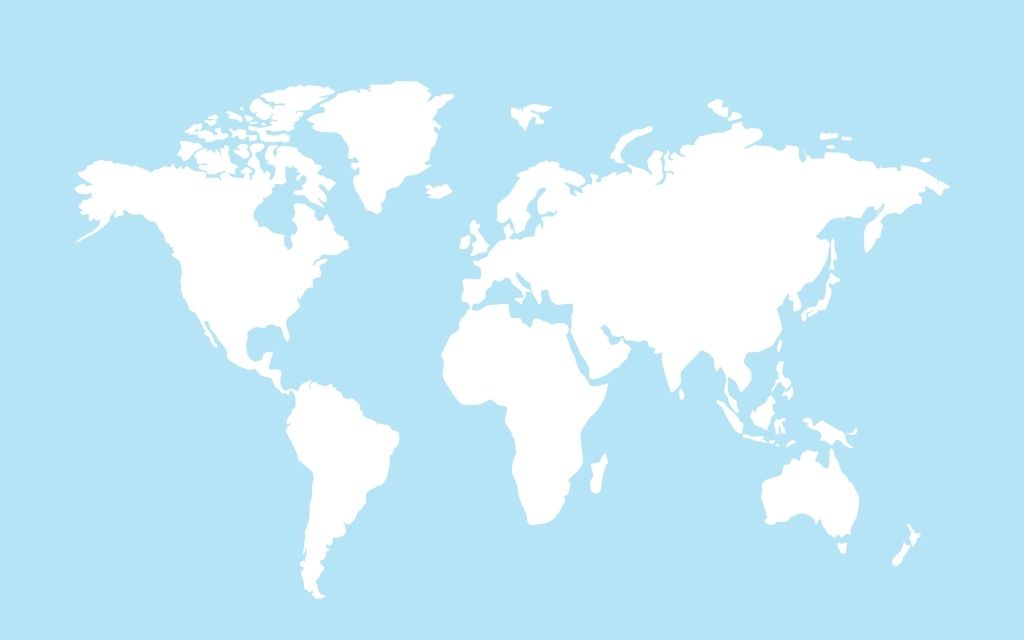 Instructions
Help everyone gain a better understanding of where everyone is located by creating an interactive map of the world.
Start it off by asking everybody to demonstrate where they're born and then ask them where they're currently located by pinning a picture of themselves onto the map.
As time goes by, you can color in even more of the map by asking your team ice breaker questions like what their ideal holiday spot would be, the best place they've traveled to, or where their parents are from.
This simple team building activity is a great way to break the ice and to help employees learn a lot about each other.
What We Like About This Activity
This activity is especially beneficial for remote teams, as it visually represents the global spread of team members, highlighting the team's diverse composition. It's a simple yet effective icebreaker that encourages conversation and storytelling, making it an engaging way to start meetings.
What We Don't Like About This Activity
There might be privacy concerns, as some individuals may be uncomfortable sharing personal information about their birthplace or family background. The activity may inadvertently highlight differences more than commonalities.
16. Quirky Photo Challenges
Objective: Team Bonding & Get To Know One Another
Participants: 5 - 10
Duration: 10 to 15 minutes
Difficulty: Easy
They say a picture is worth a thousand words, if that's the case then we can learn way more about our colleagues with one good picture than we could with dozens of email exchanges. And that is why we love the photo challenge.
These types of team building activities are great because they're simple and you can learn so much about another person through the photos they take. They also mean that quite literally anyone with a phone can join it.
Try out this quirky photo challenge we've used at QuizBreaker: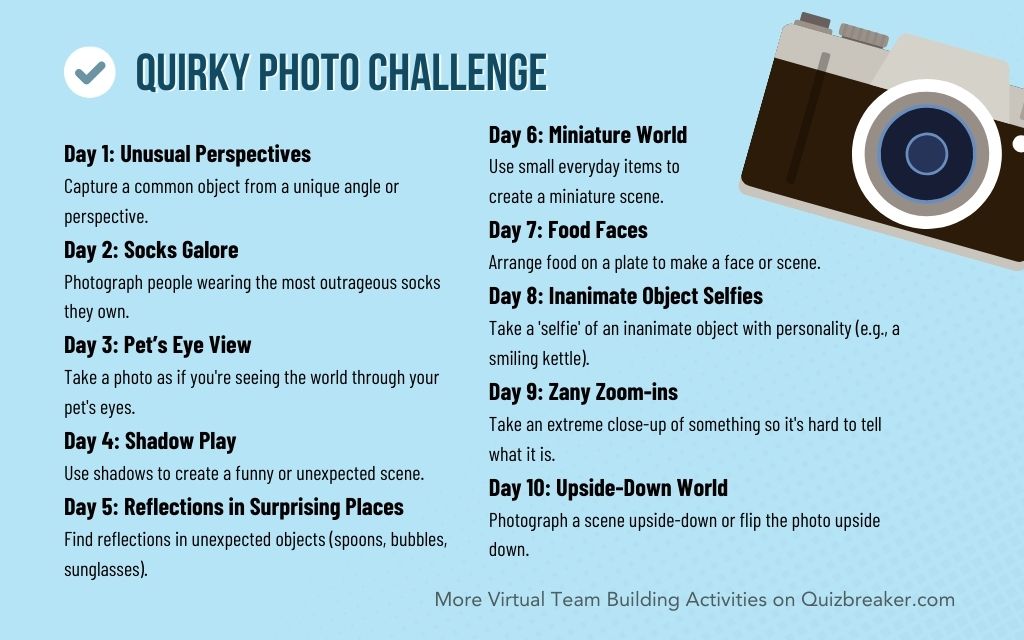 Instructions
Again, the instructions are super simple. At the start of every week, create a new challenge. For example, one week the challenge could be 'the best photo of a pet' or the 'nicest looking plant in their garden'.
To keep it relaxed and fun, set up a Slack channel just for this and start every week with a new photo challenge with anyone being able to post a photo anytime they want.
Add a little bit more motivation to the mix (if cute animal photos aren't enough) by picking out the best photo at the end of the month and sending the winner a framed print of their picture. I did this last week and my photo of the beautiful harbour in my hometown of Sydney won :)
What We Like About This Activity
This activity encourages creativity and can bring out a different side of colleagues that might not be evident in regular work interactions. Setting up a dedicated Slack channel for this challenge creates a casual, ongoing platform for interaction, separate from work-related communication.
It also adds an element of fun and friendly competition, especially with the incentive of winning a framed print of the chosen photo.
What We Don't Like About This Activity
The game could create pressure or discomfort for those who are less confident in their photography skills or who prefer to keep their personal life private.
17. Two Truths, One Lie
Objective: To get people to connect and understand each other
Participants: 4 to 40
Duration: 5 to 10 minutes
Difficulty: Easy
Materials: None
We love two truths and a lie because it is a classic ice breaker game that can be used to get the conversation flowing and have some fun while you're at it.
It's also good because it involves video conferencing, which is the next best to face-to-face communication. Can read each other's body language and facial cues, which builds trust and connections between teams.
Instructions
The night before a video conference call, get all remote team members to write down two facts and one lie about themselves
Make sure these are personal anecdotes, not work-related things.
Once they have said them, everyone goes around and says which ones they think are the truths and what is the lie.
Give the person who got the most correct ones a prize!
What We Like About This Activity
Two Truths and One Lie is a classic icebreaker that's excellent for virtual team-building. It's simple, requires no special equipment or preparation, and encourages team members to share interesting facts about themselves, fostering personal connections.
What We Don't Like About This Activity
Some individuals might feel uncomfortable sharing personal information or may struggle to come up with facts that are both appropriate and engaging.
18. Remote Team Retreat
Teams that work remotely still need to have some face to face quality time in order to build their bond and become a stronger team. Here are some options for team retreats; Top 10 Remote Team Retreat Ideas in 2023.
What We Like About This Activity
As wonderful as remote work setups can be, it helps for virtual teams to see each other face to face and spend some time having fun together. We do this at least once a year on QuizBreaker too. We travel and take tours together. After having some fun, we then spend some time putting our heads together and strategizing.
What We Don't Like About This Activity
We're not gonna lie— remote team retreats can be expensive. But we still think they're worth the investment into your team.
19. Themed Work Weeks
Duration: 5 minutes
Difficulty: Easy
Materials: Costumes
A theme week is a great stress reliever and a great opportunity to laugh with your team. The theme doesn't have to be extravagant and can be as simple as wearing your favorite sports team jersey.
Instructions
Share the chosen theme for the week with your team, you can even create a poll to help decide on which theme you all want to do for your next conference call

Award the "best dressed" and have the winner choose the next theme!
If you need a good set of themed work weeks, we've got a template you can follow for one whole year below. Feel free to steal it from us!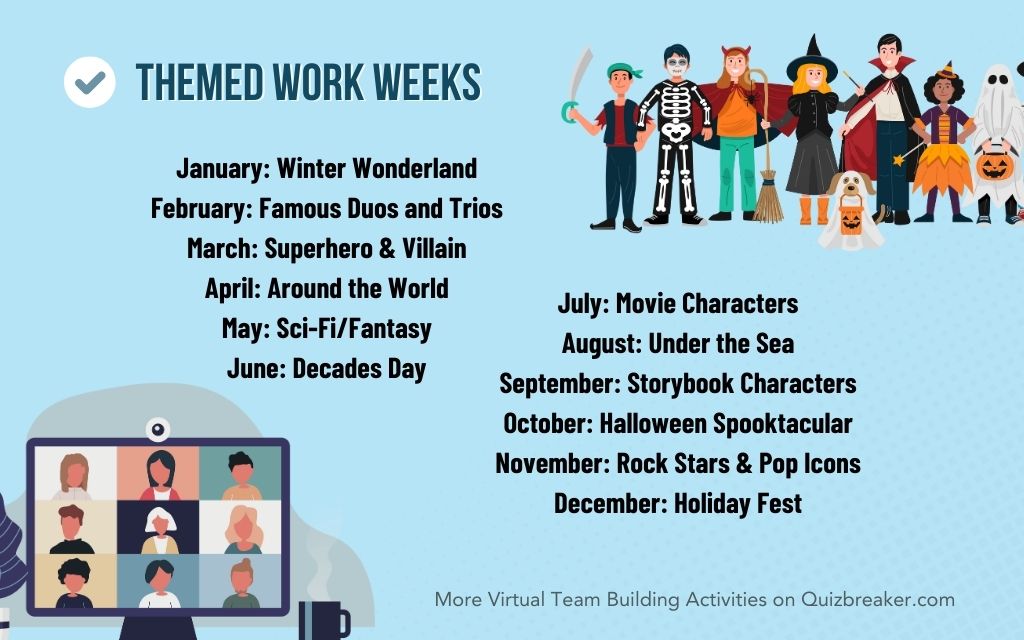 Suggested Reading: 11 Best Zoom Team Building Activities To Try
What We Like About This Activity
This activity is easy to organize and doesn't require much time or resources. Themed work weeks also offer a creative and enjoyable way to add some light-heartedness to the work environment.
What We Don't Like About This Activity
Some team members may feel uncomfortable participating or may not have the appropriate attire for certain themes. In some cases, themes can be misinterpreted or lead to inappropriate choices of costumes
20. Baby Photos
Objective: To get everyone to know each other
Participants: 5+
Duration: 10 to 15 minutes
Difficulty: Medium
Materials: Baby photos of each team member (emailed to you prior)
We love this remote team ice breaker because it's an old tradition - remember in your yearbooks when you'd have baby photos posted? Or, on your 18th when your mum would make you an embarrassing collage of all your childhood photos?
We also love it because it's super simple and super fun!
Note: this only works when team members know what each other looks like, thus, we suggest using it with slightly better-formed teams!
Instructions
Get every team member to send you a baby photo of themselves.
Create a word document with these photos in it.
Send it round on slack (or whatever channel you use) and get participants to guess who is who within a certain time limit (we suggest about 10 minutes).
Collect their answers and mark them. Give the winner a prize (e.g., some amazon vouchers or a food voucher).
What We Like About This Activity
This game can start lighthearted conversations to ease tension and build a friendly team environment. It's also relatively simple to organize: collecting photos, creating a document, and conducting the guessing game via a communication channel like Slack.
What We Don't Like About This Activity
Some team members might feel uncomfortable sharing childhood photos. There's a risk of embarrassment or unwanted attention.
21. Virtual Scavenger Hunts
Objective: To create a competitive but fun atmosphere
Participants: 5 to 15
Duration: 15 to 20 minutes
Difficulty: Medium
Materials: Assorted items
Scavenger hunts aren't just for co-located teams. Online teams can participate in them too and have great fun whilst doing it! Scavenger hunts allow team members to collaborate with one another, while also letting them delegate tasks and utilize each other's strengths and skills.
The team at Dashword reports having learned how each member reacts to different situations, making it easy to deal with similar issues in the workspace.
Instructions
Split your teams into two teams (or more if your remote team is bigger).
Create a list of items that you think most people will have in their homes or office work place (to make it extra fun, we suggest adding in some interesting and uncommon items).
Team members should create ways to communicate instantly whilst completing the challenge.
Set the clock for 5 minutes and get each team to go and find their items.
At the end, create a big video chat and get everyone to show what items they have collected. If you can video chat, get each team to submit photos of what they have collected.
Count up the points and the team with the most collected items is the winner!
If you need a list of virtual scavenger hunt items, here's one you can use for remote teams: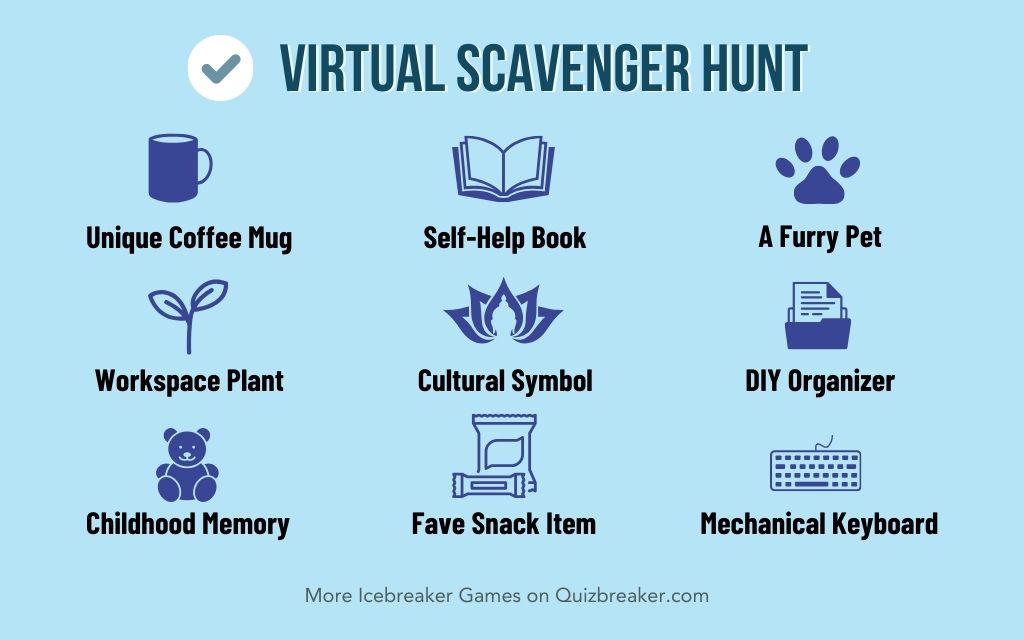 Recommended Reading: Top 12 Online Scavenger Hunt Games
What We Like About This Activity
We think that scavenger hunts are an exciting and dynamic way to engage remote teams. These hunts can be creatively tailored to include items or tasks that are likely to be found or performed in a home office setting, making them accessible and enjoyable.
What We Don't Like About This Activity
Coordinating the activity across different time zones and schedules can be challenging, especially for larger cross-border teams. The competitive aspect might create pressure or stress for some individuals.
22. Bucket List
Objective: Empathy and Team Bonding
Participants: No limit
Duration: On-going
Difficulty: Easy
Materials: Virtual whiteboard or shared doc
Bucket lists are a great way to learn about people, especially your team. It builds on ideas and goals that your team can reach together personally or professionally.
Instructions
Ask your team before your next team building session to share their top 10 bucket list goals.
Have everyone share their list on a shared doc, and your colleagues can see a different side of one another. It also is a great icebreaker question.
What We Like About This Activity
This activity helps you encourage open communication and discussion beyond the usual work-related topics. It's easy to organize. You only need a virtual whiteboard or shared document. It's also suitable for teams of any size.
What We Don't Like About This Activity
Without proper facilitation, the discussion might steer off-track or become dominated by a few individuals. The challenge is also in maintaining interest and engagement over time
23. Articulate
Objective: To get a team member to use their brains and laugh with each other
Participants: 4 to 15
Duration: 10 to 20 minutes
Difficulty: Medium
Materials: None
Some remote teams play this once a week because they love it so much! We can either suggest playing this once a week, or you can use it now and then. Either way, we guarantee it'll provide a great laugh.
Instructions
Give everyone a different list of 10 words (e.g., laughing, movie, dog, etc.)
Set the clock for one minute. The first participants begin by describing as many of their words as possible to everyone else, without saying the actual world
After 1 minute, the next participant goes.
Cannot say "sounds like" or "starts with."
The winner is the person who had the most of their words correctly guessed.
What We Like About This Activity
This game enhances communication skills and encourages active listening among team members. It's simple to set up with no materials needed, making it easy to incorporate into virtual meetings.
What We Don't Like About This Activity
Team members who are less confident in their verbal communication skills or those not as fluent in the language used might find this game too challenging and disengage.
Virtual Team Building Tools & Software
Here we've curated a list of the tools & apps that will help you do all of your virtual team building. Most of them come with free versions.
Video Conferencing Platforms
1) Zoom
Companies alike use Zoom for their daily meetings, and they offer free services. They also allow only audio calls for those who have slower internet connection or are still getting ready for the workday.
Additional features include screen sharing and call recordings. The only downsides to Zoom are that the free version only allows 40-minute calls at a time.
They have experienced security issues, so we suggest using a video app with more security features if you are discussing highly private information.
Check out Zoom here.
2) Jitsi Meet
is Another great video-calling app that allows full customization if needed. A great thing about Jitisi Meet is that it does not encourage users to download any desktop or mobile app. It is only accessed through your preferred web browser.
Jitsi Meet emphasizes on secure connections, and they do not run into security issues as often. They also have similar features to their competitors like screen sharing, video call recording, but they also allow you to stream Youtube videos straight from the app.
Best of all, Jitsi is an entirely free platform, including all the features they provide.
Check out Jitsi Meet here.
3) Skype
Good ole Skype and want many like to call the OG video conferencing platform.
It is reliable and has been around for a long time. Their mobile version is excellent and is great for larger group size. Skype features include status updates, emojis, screen sharing, and video call recording. It is also a free platform for those needing to connect no matter where they are in the world.
Check out Skype here.
4) Webex
Another major player in the video conferencing apps is Webex. It is easy to use, very secure, and great for calls, chats, and everything work-related.
Fantastic for any larger video conferences and great for enterprise companies. The downside is that the bigger the group using Webex, the more it costs. They have a free version but have a call time limit and the number of people who can join.
Webex also has all the main features that will bring success to any virtual meeting, such as screen sharing, meeting recording and transcription, AI-powered meeting assistance, and much more.
Check out Webex here.
Slack Apps
1) HeyTaco!
HeyTaco! is a fun and easy employee recognition platform. Its goal is to build stronger and happier teams through appreciation and positive commentary. The Hey Taco! team added gamification to maximize the fun, from leaderboard scores to achievement levels.
Everyone can get 5 tacos a day where you can add messages to show praise and appreciation to your fellow colleagues. It's a great way to celebrate your colleagues and their accomplishments!
Check out Hey Taco here.
2) Trivia
Trivia's collection of interactive games brings your team's fun and social break right to your company's Slack channel.
Choose from trivia, word puzzles, custom quizzes, and so much more! The games are quickly launched, and Leaderboards are available to track top scorers. All the games are real-time, so they are perfect for a quick break from everyone's busy workdays.
Check out Trivia here.
3) Donut
Donut helps remote teams connect with virtual coffee dates, e-learning workshops, and so much more.
Donut's goal is to help create introductions to team members who don't know each other well or connect daily. You send out a direct Donut message that will prompt your colleagues to fun Slack conversations and virtual watercooler topics.
It is a great tool to help onboard new employees and encourages colleagues to get to know one another on a deeper level.
Check out Donut here.
4) Evergreen
Another excellent platform that emphasizes peer recognition while bringing a positive impact to our planet.
Every time you send an appreciation message through Evergreen on your organization's Slack channel, a real tree is planted. "Each tree planted sequesters an average of 84 kg of carbon annually." This is perfect for creating team engagement while helping the environment!
Check out Evergreen here.
Collaboration Tools
1) Notion
Our favorite collaboration tool and what our team uses is Notion. Notion is an "all-in-one workspace" best for calendars, note-taking, and project management, which would help you maximize your team's planning.
Create your boards, layout and completely customize them to your organization's preferences.You can easily tag, comment, and share tasks all through Notion. It is excellent for personal use to huge enterprises.
Notion has a little bit of everything for everyone to maximize your workforce and makes collaborating with others easier.
Check out Notion here
2) Miro
Miro isn't just a free online whiteboard; it is a great tool to host online brainstorming, teaching classes, agile workflows, video chat, and so much more. Miro has a plethora of different layouts that will fit any team's needs and preferences.
It is the perfect collaboration tool to use in real-time and accomplish your company's goals. Check out Miro here.
3) Toggl Plan
Looking for a project management solution? Toggl Plan has got you covered and improves managers' and team members' time management by giving easy access to everyone's workload and availability.
Toggl features simple, easy, color-coded formats to project plans and set timelines. Create comments and share attachments to allow for fast and clear communication all through one tool.
Toggl does have a 30-day free trial, and the basic plan is free to use.
Check out Toggl here.
4) Conceptboard
Another great online whiteboard platform that focuses on strategy, design, online workshops, brainstorming, and much more! Conceptboard understands the team's work globally and needs a tool to allow them to collaborate in real-time.
It brings organization and helps visually manage any project. You can access your customized boards anywhere and across several different devices.
Check out Conceptboard here.
---
Tips to Improve Virtual Team Building Activities
If you're not sure how to make your virtual team building activities fun and engaging, we've got you covered. Building on our comprehensive guide, here are 10 tips to elevate your virtual team building activities for a more cohesive and engaged remote team:
1. Use Diverse Activities for Diverse Teams
Teams are often a melting pot of cultures, backgrounds, and personal interests. When planning activities, embrace this diversity. Create a mix of tasks that tap into varied skills, cultures, and preferences.
Inclusivity ensures that everyone feels valued and makes activities richer and more enlightening, promoting genuine understanding and collaboration.
2. Embrace Technology
The digital age offers many tools designed to connect people in novel ways. Don't hesitate to explore cutting-edge technologies like virtual reality, augmented reality, or AI-driven team-building platforms.
These tools can transport teams to unique environments, fostering collaboration and camaraderie in exciting, memorable scenarios that aren't possible in the physical realm.
3. Create a Regular Feedback Loop
The most successful activities often stem from understanding team sentiments. After each session, set aside time for feedback. Use anonymous surveys or open discussions to understand what resonated and what didn't.
This insight is invaluable, allowing leaders to refine future activities to fit the team's needs better, fostering a greater sense of engagement and belonging.
4. Establish Clear Objectives
Running some directionless activity can often lead to more disengagement. Before diving in, outline what you wish to achieve with the session. Is the goal to enhance communication, promote creativity, or simply unwind and have fun?
Having clear objectives ensures everyone is on the same page and drives a more structured, productive, and rewarding experience.
5. Blend Professional with Personal
All work and no play can make virtual team-building drab, so it helps to veer into the personal realm occasionally. Organize activities where team members canshare intriguing personal stories, showcase hobbies, or virtually travel together.
These moments often build deeper bonds as members connect on a human level beyond work.
6. Rotate Leadership
Every team member comes with a unique set of experiences and perspectives. Encourage different individuals to take the reins for organizing activities.
This rotation introduces fresh ideas and approaches and fosters leadership skills, team respect, and a sense of responsibility, enriching the overall team dynamic.
7. Maintain Cultural Sensitivity
With teams spread across geographies, it's essential to be aware of cultural nuances. Plan activities considering global holidays, traditions, and sensitivities. Avoid scenarios that might be uncomfortable or alienating for some members.
Instead, use these opportunities to educate and enlighten, turning cultural differences into bridges of understanding and camaraderie.
Frequently Asked Questions
These are some common questions that come up when people have to manage remote employees for the first time.
Why is virtual team building important?
Virtual team building involves engaging remote teams in an online format to deepen bonds within the team.
Before we go on to talk about activities suitable for remote teams, it is important to highlight that there are many benefits of remote work practices.
From 2008 to 2014, the number of employees who said they couldn't concentrate at their desk in an office increased by 16%, and the number of employees who couldn't access quiet places to do focused work when working in an office went up by 13%.

Similarly, research has found that employees who worked from home reported "higher levels of job satisfaction and reduced levels of burnout and psychological stress."
Hence, a lot of our team activities are focused on improving communication within your virtual meetings and helping them work together more effectively.
Including of course our online icebreaker quiz game that was built specifically for this situation: QuizBreaker.com - we'll talk more about that later.
In remote teams, 65% of remote employees surveyed reported that they have never had a team building event or virtual event.
Now that you know the importance of successful team building activities in virtual teams, here are some of the best remote team building activities out there that will help your team bond.
Is virtual team building necessary in a remote company?
We believe so. Virtual team building is necessary because it brings a team closer together and creates a culture of psychological safety, which is essential for a team to be high performing.
It has many great benefits to individual team members and the organization as a whole, including:
Higher engagement rates;
Happier team members;
Higher productivity levels;
Better results and output;
More profitability;
Lesser costs due to turnover and employee loss;
And so much more!
How do you build team morale remotely?
Building team morale remotely can be challenging given the physical distance and lack of face-to-face interactions, but with the right strategies, it's achievable. Here are some methods to bolster team morale in a remote setting:
Virtual Team-building Activities: Any of the virtual activities above can help build a team's morale. So try some virtual games, trivia sessions, or even shared online courses. These activities break the monotony and foster camaraderie among team members.

Build Regular Communication: Encourage daily or weekly check-ins to keep everyone informed. This could be in the form of video calls, team meetings, or chat room updates. Keeping lines of communication open reduces feelings of isolation.

Acknowledge and Celebrate: Recognize individual and team achievements. Simple gestures like a shoutout in a group chat or a virtual award can greatly make employees feel valued.

Give Flexible Work Hours: Understand that everyone might not be in the same time zone or have the same home responsibilities. Offering flexible hours where possible can reduce stress and improve work-life balance.

Provide the Right Tools: Equip your team with efficient collaboration and communication tools. Having the right technology at their fingertips reduces frustrations and boosts productivity.
How do you make a virtual meeting more fun?
Breaking up the monotony of online meetings with fun quizzes, trivia and icebreakers is an easy way to keep people from falling asleep.
How do I spice up a virtual meeting?
You can do all sorts of things such as adding in 'themes', background music, challenges, etc. We also recommend that you play virtual team building activities before you start the meeting. If you need shorter games, you should check out our list of fun 5-minute team building activities.
How do you motivate your team virtually?
Creating incentive programs is always an effective strategy. It's also helpful to align the remote team around one central mission where everyone understands how they impact it.
---
Final Thoughts
We hope you've liked our list of the best virtual team building activities for remote & distributed teams.
More than anything, we hope this post has made you realize that just because your team is distributed over eight states, 12 countries, two continents, and seven time zones, it doesn't mean you can't be a team and promote the same communication, trust, and collaboration as normal teams.
When you set aside some dedicated time for focused virtual team building, and integrate activities like these into your weekly routine, you will find your team growing stronger and better daily.
Try these out and let me know how you go!