Effective communication skills in business are vital for fostering a good relationship between you and your employees, and with that, increasing your employees' productivity, motivation, and most importantly. This outcome, in turn, will make your team members feel heard and valued. One of the best ways for managers, HR professionals, and business owners to get feedback from your employees and measure their engagement is by asking them to fill out employee engagement surveys.
After scouring the internet for tools, and doing tons of additional research, we can say with great confidence that we've identified the best employee engagement survey tools for 2023!
And if this sounds too good to be true, just take a look at what we've picked. And after you read our reviews of the best engagement survey tools, don't forget to read our Frequently Asked Questions section, where we go deeper into explaining why you need an employee engagement survey provider in the first place, and how to pick the right one for your current business needs.
With that said, let's get started!
1) QuizBreaker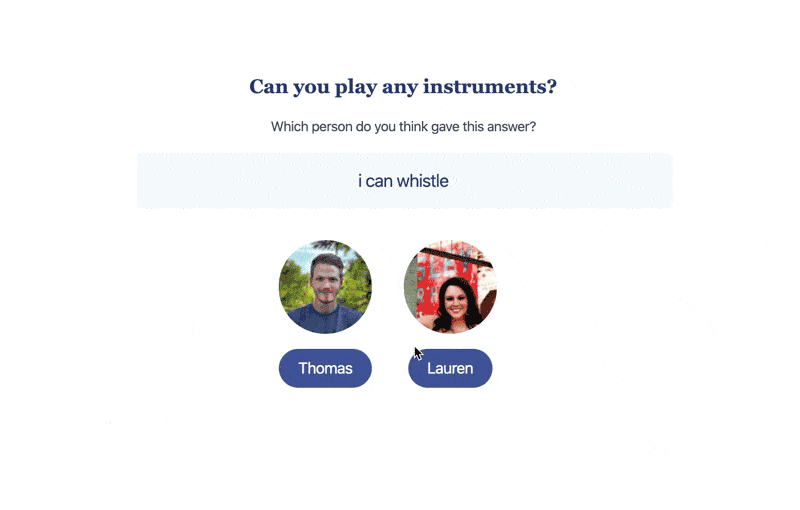 Yep, that's us!
Why businesses choose us:
We offer clients the same pricing, regardless of how many members your team has.
QuizBreaker not only assists you in getting relevant data regarding employee engagement, but it allows you to strengthen your team and improve overall performance levels as well.
We also help you:
discover how to move your team forward and resolve potential blockages once and for all;

engage your team in the pursuit of building a good work environment;

increase employee retention;

improve staff morale;

bring team members closer;

make survey launches something your employees actually look forward to;

and collect feedback anonymously.
You also get to add custom questions, although you're free to use ours, too. Another thing you can easily do is measure any change within a team's mood, and receive reports instantaneously. QuizBreaker is also a mobile-friendly web app.
We work fairly well with any type of company and any team size. Put simply, we're equally able to service teams with 3 people and with more than 1000 members - for the same price. So whether you're conducting monthly, quarterly, or annual surveys, the experience becomes something your team won't consider a hassle.
Moreover, our platform's flexibility is unsurpassable. It allows users to choose precisely when and how often they wish their surveys to be delivered.
Pricing
10 members - $99;

20 members - $99;

50 members - $99;

100 members - $99;
You really do get the same pricing, irrespective of how many people you have on your team. Plus, there's a full refund within 14 days in case you don't like the platform for whatever reason.
Not to mention that pulse survey questions aren't the only thing you can do with QuizBreaker? You also have other employee engagement tools like:
Icebreaker quizzes to get your teams to know each other more;
Personality tests;
Workstyle profiles to help you understand what makes team members tick;
Trivia games;
Online escape games; and
A whole lot more!
It's worth mentioning that there's no lock-in contract, so you're free to cancel your plan at any time.
Pros:
very straightforward and intuitive to use;

you'll get some of the most detailed reports out there;

high-quality customer support team;
Cons:
being a flat price company, we don't offer most of the high-end enterprise features you may get with other such tools;
2) SurveyMonkey
Why businesses choose it:
This employee engagement survey tool is trusted by 98% of the Fortune 500.
Advertising itself as "a global leader in survey software" with 20 million employee survey questions and other quantitative and qualitative questions answered on a daily basis, SurveyMonkey helps millions of people across the world gather employee feedback and make informed business decisions.
SurveyMonkey provides users with a wide range of survey templates, including:
customer satisfaction;

customer loyalty;

event surveys;

employee engagement

job satisfaction;

HR surveys;

market research;

opinion polls;

concept testing.
Moreover, its Team Plans offer options such as gathering comments in one place, allowing team members to filter, analyze, and export employee engagement survey results, share employee surveys with control over who can edit and view, notify others when you receive new responses, and so on.
There are features for those who wish to receive much more advanced options too, such as:
an unlimited number of surveys and unlimited responses;

50 questions per survey;

24/7 email customer support;

file upload;

custom colors and survey URL;

A/B test text and images;

data exports (CSV, PDF, PPT, XLS);

and multilingual surveys.
On the whole. SurveyMonkey is great for HR, CX, IT, marketing, and any business owner who wishes to gain useful insights into what their employees want and expect.
Pricing
Team plans
Team Advantage - €30 per user per month;

Team Premier - €75 per user per month;

Enterprise - contact SurveyMonkey for more information;
Individual plans
Advantage Annual - €38 per month;

Standard Monthly - €39 per month;

Premier Annual - €99 per month;
Enterprise
Contact Survey Monkey for more information and to schedule a demo.
Pros:
highly customizable;

a wide range of pricing plans;

easy to set up and use;

ready-made templates you can use at your convenience;
Cons:
has a basic free plan, but it's extremely limited and not suitable for businesses on the lookout for more advanced employee engagement survey tools;

can get pricey for larger teams;
3) Culture Amp
Why businesses choose it:
CultureAmp includes a lot of detailed analytics.
This tool helps enhance companies' organizational culture and ongoing engagement. It allows for customized questions across a wide range of situations and contexts, from well-being and diversity, to employee satisfaction.
In terms of engagement, Culture Amp offers engagement surveys, experience surveys (which include employees' onboarding and exiting experience), well-being surveys, diversity and inclusion surveys, manager and executive dashboards, detailed benchmarks (classified by company size, region, and industry), and so on.
When it comes to performance, this employee engagement survey tool provides goal tracking, various performance reviews, self-reflections, ongoing feedback, 1-on-1 conversations, and miscellaneous developmental resources.
Next, here's what you can expect in terms of platform capabilities:
a coaching tool;

slack integration;

HRIS integration;

Microsoft Teams integration;

a mobile app;

data extract in CSV, PDF, PowerPoint, and Excel.
There's also customer support via live chat and email. Culture Amp is great for those who wish to get more than just the basics, yet enjoy the tool's simplicity. It's great for businesses of any size, as each plan is specifically tailored for a particular company size, as outlined in the next section.
Pricing
Self-Starter - great for 25-200 employees;

Standard - suitable for 200-1000 employees;

Enterprise - ideal for 1000+ employees;
You need to contact Culture Amp for specific prices.
Pros:
data export in a wide range of formats;

multiple integrations;

a very dynamic platform, yet quite user-friendly too;

a stylish interface;
Cons:
no free plan;

have to contact vendor to get the exact prices;
4) Monday
Why businesses choose it:
According to Sarah Pharr from Genpact, since opting for Monday, Genpact's marketing division "has seen a 40% improvement in cross-team collaboration for successful end-to-end campaign planning and execution."
Taking pride in its versatility as a platform, Monday helps companies manage a wide range of tasks and services, such as:
project management;

software development;

sales and CRM;

operations (gives you the opportunity to track all of your ongoing projects and processes in a single place);

HR and recruitment;

creative and design;

task management;

IT;

and marketing.
Monday provides all its users with the following features:
unlimited boards (the place where you get to organize your work, tasks, data, clients, ongoing processes, and so on);

unlimited documents (you can create documents and also collaborate with your team in real time);

more than 20 column types;

over 200 templates for each industry;

embedded docs;

whiteboard collaboration;

updates section (where you can interact with your team, share docs and files, and get informed about any recent developments);

customizable notifications;

Kanban view;

24/7 customer support;

daily live webinars;

two-factor authentication.
The platform provides services to both smaller teams and larger companies, as it has something for everyone.
It's fairly easy to use it as well. All you need to do is customize the survey, embed it onto the site, and then the answers go directly on your board. Also, you get to see all the data presented in a visually appealing format.
Finally, you can integrate the tool with Outlook, Microsoft Teams, Dropbox, Slack, Zoom, Google Calendar, Google Drive, Excel, LinkedIn, Gmail, Zapier, OneDrive, Adobe Creative Cloud, Stripe, and more platforms.
Pricing
Individual - free;

Basic - $8 per user per month;

Standard - $10 per user per month;

Pro - $16 per user per month;

Enterprise - contact vendor for prices;
If you choose a yearly plan, however, you get an 18% discount. Also, there's a 14-day free trial.
Pros:
quick set up in just a few minutes;

the tool is available on both Android and IOS devices;

easy integration with your already existing apps;

a free trial;
Cons:
the mobile version may be a bit glitchy at times;

quite pricey for larger teams and organizations;
5) Lattice
Why businesses choose it:
Lattice combines performance management, employee development, and employee engagement in a unique manner.
Enabling both employees and managers to manage and document their overall professional experience in one place, Lattice has managed to transform the way people talk about (or even perceive) their careers.
The tool gives users the chance to prioritize their tasks and responsibilities, praise peers and recognize their success, provide feedback, and answer status questions.
Also, Lattice has several plans, so depending on what features you need, you should pick one of its three options - performance, a combination of performance and engagement, and a tailored solution.
So, those interested in the Performance option end up with:
Change Management Hub;

performance management training;

regular business reviews;

1:1 agendas and tracking;

single sign-on (SSO);

mobile app;

OKRs and goal management;

Goal and OKR analytics;

Slack, Google Apps, and Outlook integration;

Lattice University;

performance reporting and analytics;

360° and Manager-led Performance reviews;

custom question templates;

performance review sentiment analysis;

real-time feedback;

mobile app;

Lattice University;

weekly manager updates;

Org Chart.
Those who aren't fully satisfied with the features offered within the Performance option can pick a combination of both performance and engagement, and get:
engagement reporting and analytics;

real-time pulse insights;

employee engagement and pulse surveys;

research-backed question bank;

connected engagement & performance insights;

science-backed survey templates;

performance and engagement training;

historical benchmarks;

regular business reviews and engagement consults.
Finally, if you wish to get a solution that's tailored to your company and current business needs, you should also expect to receive:
onsite executive training;

custom product solutions;

custom implementation plans;

regular executive business reviews and engagement consultations;

user provisioning and deprovisioning (SCIM);

role-based performance and engagement training.
Pricing
Performance - $9 per person per month;

Performance & Engagement - $12 per person per month;

Enterprise - a custom-made plan (contact vendor for specific prices);
If you decide to pay $3 more per person per month, you get the Grow Plan, which is a relatively new plan Lattice offers. You can expect to receive the following features:
competencies;

levels;

career tracks;

growth plans;

1:1 reviews integration;

and connect career development to performance.
Pros:
versatility;

scalability;

seamless integrations;
Cons:
a bit overwhelming for newbies;

vague feedback tool (according to some users);
6) Trello
Why businesses choose it:
Once users understand that Trello is much more than just about project management, they allow the tool to do its magic.
In general, Trello is a visual collaboration tool used for managing projects and planning tasks. And while there's nothing wrong with using Trello for these purposes, it's worth noting that there's so much more to Trello than what many initially believe.
Put simply, Trello can be used across a wide range of departments such as sales, HR, marketing, and, of course, as an employee engagement survey tool.
To start with, you can create a Trello board with some activities that employees can do together. And while at first, it may be confusing to see how this can contribute to better employee engagement or performance, it's worth noting that such activities bring about bonding, making employees more inclined to collaborate with one another.
Next, you may give public recognition by using a kudos board. What's more, you can use a Trello board for any task and project - both for professional and personal task management!
When it comes to Trello's features, you get options such as:
adding files, emojis, and comments to discussions (you may tag specific members within the comment sections, too);

exporting team data with just a single click;

receiving notifications from any device at any given time;

creating Kanban cards;

responding to emails and sending attachments without even having to log into the platform, and so on.
Finally, the platform provides users with much more advanced features and premium services - it all depends on the plan you decide to settle on.
Pricing
Free - $0 for your whole team;

Standard - $5 per user per month;

Premium - $10 per user per month;

Enterprise - $17.50 per user per month;
Pros:
a wide range of functions and uses;

a Kanban layout;

very customizable;
Cons:
the interface could look a bit more professional;

The fact that you have too many boards can sometimes be a hurdle for users, as they can feel as if they're losing track of some projects, so the tool might be more suitable for smaller projects;
7) 15five
Why businesses choose it:
It's one of the easiest tools to set up.
15five got its name from the habit its tools promote, which is basically setting aside 15 minutes each week to write reports and five minutes to read them. The platform's main function is to provide ongoing performance management, empower employees, and facilitate communication among managers and individual employees (or even whole teams).
This is done via pulse surveys, employee recognition, weekly check-ins, people analytics, and so on.
According to the vendor, 15five has multiple plans for various company sizes. For instance, if you choose the basic plan, you get features such as:
action plan dashboard;

employee management;

custom topic-based assessments;

insights briefing and strategic planning;

manager and employee coaching;

filterable heatmap and analytics;

core engagement survey;

topic-based assessments;

historical benchmarks;

enterprise-grade security.
That said, if you pick some of the more advanced plans, you don't just get everything that comes with the basic plan, but some extra features as well, and on top of that, you receive an additional Manager Enablement & People Development program which consists of:
request feedback;

best-Self Kickoff;

role clarity;

check-ins;

1-on-1 meeting agendas;

Slack, Teams, and Google Calendar Integrations;

strengths discovery;

career vision;

continuous recognition (high-fives);

data insights.
Pricing
Engage - $4 per user per month;

Perform - $8 per user per month;

Focus - $8 per user per month;

Total Platform - $14 per user per month;
Pros:
very user-friendly;

a simple onboarding process;
Cons:
at first, it might be tough to identify some tools that seem more or less "hidden" in the menu section;

tracking the 1:1 meetings between a manager and an employee should be better;
8) Peakon
Why businesses choose it:
Clients identify it as the only tool employers need to secure their employees' success.
With its fairly unique Intelligent Listening technology, Peakon takes employee engagement to the next level. In essence, Peakon claims that this technology "surfaces the truth" - what this means is that managers always get real-time insights without them having to do any admin work (data is analyzed automatically), there's advanced machine learning, as well as insights into each employee's overall experience.
But Peakon delivers so much more - this is merely the beginning. So, using this platform and its employee engagement solution means:
increased manager effectiveness thanks to its contextual learning;

personalized insights to further empower your employees and improve the overall engagement levels;

skipping the boring survey-related admin tasks and dwelling solely on the right questions for your context;

getting intelligent benchmarking, an Advanced Language Processing surface, and structured question libraries;

surveys that are delivered via SMS, email, and kiosk (allegedly, its surveys are also designed with the partially-sighted and the blind in mind);

guided analytics to cover blocks in your organization or patterns which aren't going any good, and so on.
Finally, besides the employee engagement survey solution, Peakon offers performance feedback, employee experience and retention, leadership development, as well as diversity, equity, and inclusion solutions.
Pricing
Essential - $3.18 per user per month;

Premium - $4.24 per user per month;
Pros:
top-notch features;

push notifications;

surveys can be translated in more than 50 languages;
Cons:
the huge number of features can sometimes seem quite overwhelming and confusing (especially for those using the tool for the first time);
9) SurveySparrow
Why businesses choose it:
...because it does more than just surveys.
With the versatile features and the abundance of plans and options SurveySparrow offers, it can be a bit confusing to know where to begin if you visit their website, so let's simplify.
First and foremost, SurveySparrow helps you measure employees' overall mood via its Employee Pulse Surveys. Using the platform allows you to monitor their job satisfaction levels, engagement, and both identify and analyze ongoing issues.
Its 360 feedback tools also assist employers in perceiving pros and cons in teams, becoming aware of blind spots, but also discovering some hidden talents.
Finally, the best thing about this employee engagement survey tool is that even its free plan provides users with very valuable features, such as:
3 active survey projects, and 10 questions per survey;

self-notifications;

response notifications;

unlimited users;

Microsoft Teams, Slack, Google Analytics integrations, and so on.
Pricing
Personal
Free (50 responses per month);

Basic - $19 per month (300 responses and 900 email shares per month);

Premium - $29 per month (2,000 responses and 6,000 email shares per month);
Business
Business - $99 per month (10,000 responses and 30,000 email shares per month);

Enterprise - $499 per month (50,000 responses and 150,000 email shares per month);

Elite - contact vendor for custom pricing;
NPS
NPS free (50 responses per month);

NPS Basic -$99 per month (1,000 responses and 3,000 email shares per month);

NPS Premium - $299 per month (10,000 responses and 30,000 email shares per month);

NPS Enterprise - contact vendor for custom pricing;
Please keep in mind that these prices are for yearly payments - the quarterly ones are slightly more expensive.
SurveySparrow also allows users to add certain add-ons they may wish to have and pay accordingly. For instance, a Shopify plan will cost you $1 per month, Raise API limit is $49 per 1000 APIs per day, Offline Devices (such as kiosks, and terminals) costs $10 per device per month.
Pros:
a free 14-day trial (no credit card required);

highly effective;
Cons:
some users have been slightly dissatisfied with customer support.
10) Nfield
Why businesses choose it:
...because of its tailored prices to suit your unique business needs.
In general, Nfield is a platform for market research organizations. It allows you to create telephone surveys, mobile surveys, and even face-to-face surveys.
What's more, Nfield provides offline response collection, question library, skip logic, custom survey URLs, and it additionally supports video, audio, and images.
The platform's NfieldTool (which used to be known as the UploadTool), helps you navigate your way through the surveys, but only if you're using the platform's API. So, after successful authentication in the Excel sheet, the following sets of actions are made available to you (we'll only refer to the Survey setting actions here):
upload quota frame;

copy quota frame;

upload response codes;

upload translations;

upload interview status;

upload assignments;

download assignments;

upload script fragment;

delete assignments;

delete media files;

encrypt links for Online.
Pricing
Contact the vendor for further information.
Pros:
provides tailored services;

fully mobile responsive;
Cons:
usually aimed at market research organizations;
Frequently Asked Questions
Why are employee engagement survey tools necessary?
Employee engagement shows how much an employee is passionate about their work and how much effort they're willing to put into living up to their company's expectations. Knowing this makes it easy to understand why tracking employee engagement is so important, which is why employee engagement survey tools are of great help for achieving this.
Employee engagement survey tools allow employers to conduct various surveys online, manage their teams in a productive manner, and stay informed about how their employees truly feel about their jobs.
They create opportunities for very significant two-way communication and enable both employers and employees to take part in the company's development process. In essence, they allow everyone's voices to be heard.
Employee engagement survey tools also give insight into the company's culture, work expectations, as well as an employee's overall attitude toward their work environment. Combined with other useful engagement tools and methods, these tools are some of the most effective ways of not only measuring but ultimately improving employee engagement across all companies.
Put simply, taking a closer look at what works in your company, what rules should remain in place, and which ones you need to get rid of can help you boost the current levels of employee engagement beyond what you may have anticipated.
That said, companies need to first correctly analyze the survey results they get from these surveys, and later on, apply the relevant changes in practice. You can't rely just on the employee engagement survey tools. YOU need to implement those changes.
However, choosing the right tools will greatly help you create a highly engaged workforce, which brings us to the next question.
How do I choose the right employee engagement survey tool for my company?
The Internet is full of employee engagement survey tool recommendations, which is why we did a lot of research and read plenty of reviews to give you the best of the best.
But that "best" is still 10 solid options, which doesn't make it too easy, right?
So how do you know which employee engagement survey tool is the right one for your business?
Here are some tips to help you make up your mind:
Set a budget. Do you need a free trial? How much can you afford at this point? Are you planning on hiring new employees? Will this have any effect on the monthly cost you need to pay for a specific tool? Answering these useful questions can help you see whether there's a price range you need to consider (or not).

Make a list of the features you're after. What type of tool do you need? Should it be mobile-friendly? Should it suit any team size or do you have some more specific preferences? Do you wish to cancel your payment plan at any time? How important is the customer support team? What about being able to add some custom-made questions? Also, please note that it's worth choosing a tool that may bring you much more than just several employee engagement survey features; most of these platforms have so much to offer, and that's why we included many additional features and details to help you make an informed purchasing decision.

Look for simplicity. If you opt for a complex tool, it's more than likely that most of your employees may struggle to use it; others may not even wish to try it whatsoever. This is why picking a user-friendly employee engagement survey tool with a simple survey process will not only help employees have a more enjoyable experience using it, but also allow them to stay fully focused on the actual survey rather than worry about the technical aspects of it.

Analytics. Once employees take the survey, how do you analyze it? Can you analyze it by specific location, team, division, unit, manager, demographics, and so on? Data becomes meaningless if you can't see it from a perspective that is meaningful to you and your company, so keep this in mind as well.

Fun Factor!. Your surveys shouldn't only be information. They should be fun! When they are, you will get better response rates.
What are some good employee engagement questions?
You may think that answering employment engagement questions is tough for employees, but let us tell you something - creating such questions can sometimes be twice as difficult!
After all, coming up with questions that tackle employee performance and satisfaction levels and assess an employee's passion and overall drive is nothing sort of challenging.
Yet, having highly engaged employees is far from impossible. We've done it in the past, so it can definitely be done!
That said, if you wish to simply have a taste of what good employee engagement questions sound like, you can take a look at the following ones*:
Would you rather stay at your current job position or apply for a more senior one?

Is there any tool/software/program you're required to use at this point, but you haven't received the necessary information/training in order to do so?

Is there a general sense of satisfaction and calmness when you think about your work or does thinking about it bring about discomfort and unease?

What does the relationship between employees and the leadership team tell you about the company's hierarchy?

How do your professional suggestions contribute to the company's overall success over time?

Do your work deadlines, project problems, and various stressful activities cause you problems in your private life?

How supportive and inspiring is your work environment on a scale from 1 to 10 (1 being the lowest, and 10 the highest)?
Conclusion
Selecting the right tool ensures that your team members actually answer them, so your hard work doesn't go to waste. And that involves picking the right tool for your context. All in all, we hope that the wide range of employee engagement survey tools we elaborated on showed you just how versatile these tools are, and help you choose the option that suits your needs best.
And figuring them out doesn't take a lot of time at all. Neither does using them. As we say here at QuizBreaker, we help you "understand how your team is feeling and improve company culture in just a few minutes per week."
So, if you think your employees can spend several minutes on a weekly basis using an employee engagement survey tool, then you can definitely take a few minutes and reflect on all the tools you've just read about!
And if you still can't make up your mind or don't feel ready to make an informed decision for some reason, we invite you to go back and re-read some of the sections so that things get clearer.
Once you have your employee engagement survey tools, you'll want to check out these resources next:
We hope one (or more) of these tools will help you improve employee engagement levels. Good luck with taking your pick!